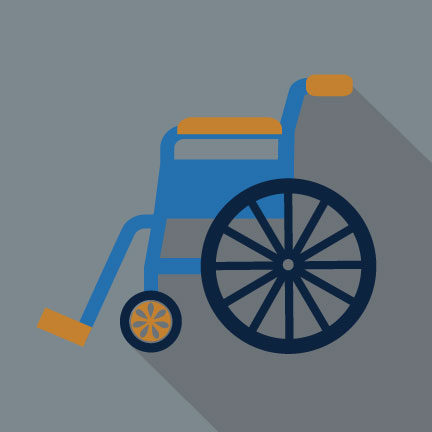 The Scent Of A…Nursing Home
Almost every time I write a nursing home-related piece, I receive a comment or three that sounds something like this: "Is there a way to plan so that I don't ever have to set foot in a nursing home? It's that smell!" Before I address the underlying question, allow me to share your concern. I get it. There is a certain way that many (not all) nursing homes smell that makes them less-than-inviting. We visit because we love the residents, but we don't have to love the smell.
With that in mind, here's a silly question I'd like you to consider. What causes a nursing home to have that unique smell? Could it be the elderly people living there? If that's true, have we adequately considered that when we're elderly, our own home is very likely to earn the same scent? And if it does, will we even notice it when we're elderly? Something to ponder.
Now, back to the question at-hand. Is there a way to plan to not need a nursing home stay when you're a bit longer in the tooth? Sure, there are a number of ways to accomplish that. Getting the care needed is becoming more and more possible in-home than ever before. From meal delivery services to in-home skilled nursing services, a very reasonable strategy is to prepare to 'age-in-place.' This may begin with infrastructure changes to your home, like widening doors for wheelchair access, adding bars to bathrooms, and even remodeling to have a main-floor bedroom. All of these are great ways to, at a minimum, lengthen your home stay as long as possible.
Here is a summary of the four distinct ways to fund long term care expenses:
1. Self-Pay
Allocate discretionary money so that a care need can be handled using money already set aside for such an event. By keeping it in some form of risk-based investments, you're likely (not guaranteed) to grow the account value to keep up with rising costs of care. While an annual stay in a semi-private room in a nursing home averages a bit over $80,000 per year, and growing, a person or couple with plenty of funds may choose to 'self-insure,' and most people don't go from home to a full care need immediately. Generally, they move through a progressive care scenario with costs rising as medical needs increase.
Note: the following insurance-based options begin to pay benefits when a person needs assistance with 2 of 6 of the following activities of daily living (ADLs): walking, eating, dressing, toileting, continence, and transfer. The benefits will generally pay whether you're in your home or in a facility. This is a huge factor to consider, in light of this discussion!
2. Traditional Long Term Care Insurance
Typically the most efficient way to pay for care when care is needed. Those who don't need long term care during their lives (approximately 50% of 65 year-olds will need some care) will have invested money in insurance premiums that didn't produce a benefit. In other words, it's a 'use-it-or-lose-it' scenario.
3. Life Insurance / Long Term Care Hybrid Policies
Combining life insurance with long term care allows a person to invest money in an insurance policy that will return that money, plus added benefits, whether long term care is needed or not. It's either paid-out as long term care benefits or as a life insurance death benefit. This avoids the 'use-it-or-lose-it' sticking point that deters many people from buying the insurance they may need. With this option, you're at least getting your money back in some way or another. It's very possible the benefits can be many times what you've invested if you do need care.
4. Annuity / Long Term Care Hybrid Accounts
Combining the guaranteed lifetime income benefits of certain annuities with a provision that will generally double that income for a period of time should either spouse need assistance with 2 of 6 ADLs. Again, this is payable whether you're at home or in a home, and often allows the person in need of care to stay at home longer because of the increased income available. This strategy is often used in conjunction with a comprehensive retirement income plan.
While this is not a completely exhaustive summary of long term care funding options, I hope you'll see that there is much more flexibility available when planning for possible care than ever before. You may not love the smell of a home, but there's now plenty of reason to plan for care, because it doesn't require you to go to one.
Do you have enough?
Retirement Income Planning is one of the most critical components of a successful retirement plan. Confidently answering the question, "How long will my money last?" can go a very long way toward retiring with the peace of mind you deserve. If you'd like to take advantage of the many tools we use to develop a detailed, written retirement income plan, contact us today. Through the use of our Review Process and state-of-the-art planning software, you'll sleep better at night knowing you've secured enough income to last as long as you do.