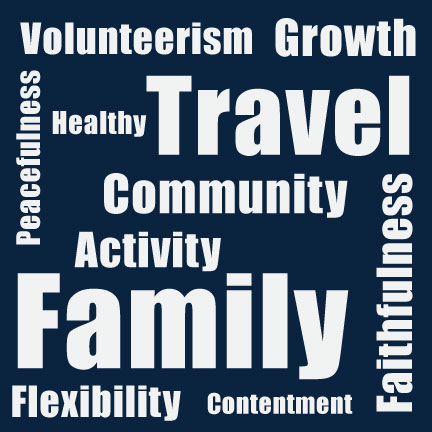 The One Word Retirement Plan
If you could choose just a single descriptor for what you'd like for the next 30 years of your life, what would it be?
For some, flexibility may be the word, for others, family. Here are words that may strike a chord with you:
Flexibility
Family
Faithfulness
Activity
Travel
Peacefulness
Contentment
Regret-Free (does a hyphen qualify it as one word?)
Growth
Healthy
Community
Volunteerism
While it may be that a single word just doesn't encapsulate all that you'd like your retirement to be, do you see how this exercise can help to narrow down, or eliminate, what isn't the best word? From this, you can establish goals and set decision frameworks around the experiences you'd like to create.
Perhaps it's idealistic to think that a decades-long retirement can be built upon a single word, but the process of trying to arrive at that word is the most valuable benefit from this exercise. The process requires thought, conversation, and reflection. The process involves becoming clearer about who you are, what you'd like to become, and what might result if you actually met your lifestyle goals. Those seem to be worthy endeavors to me, but how about you? Can you choose a word upon which you'll build your life?
Will you try?
---
Investment Advisory Services offered through Elevated Capital Advisors, LLC. An SEC Registered Investment Advisor.
This newsletter/commentary should not be regarded as a complete analysis of the subjects discussed. All expressions of opinion reflect the judgment of the authors as of the date of publication and are subject to change. Content provided herein is for informational purposes only and should not be used or construed as investment advice or a recommendation regarding the purchase or sale of any security. There is no guarantee that the statements, opinions, or forecasts provided herein will prove to be correct. Past performance may not be indicative of future results. There is no guarantee that any investment plan or strategy will be successful. All references to potential future developments or outcomes are strictly the views and opinions of the author and in no way promise, guarantee, or seek to predict with any certainty what may or may not occur in various economies and investment markets.