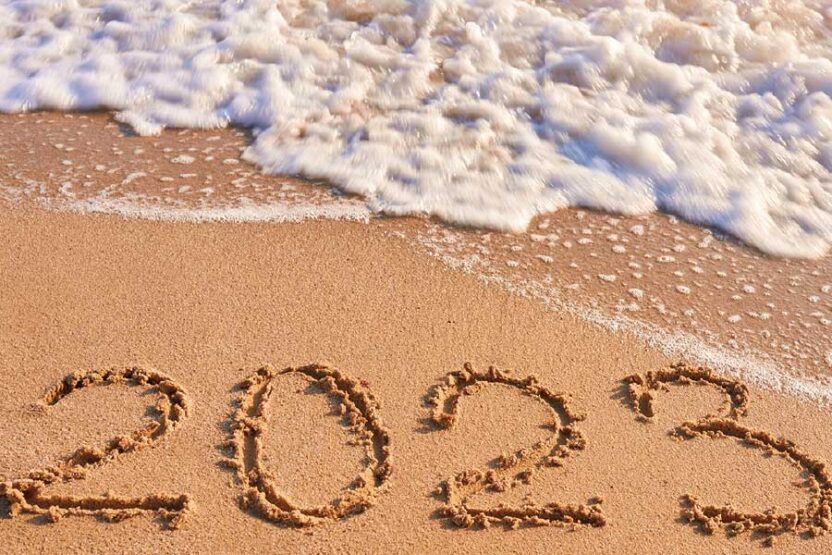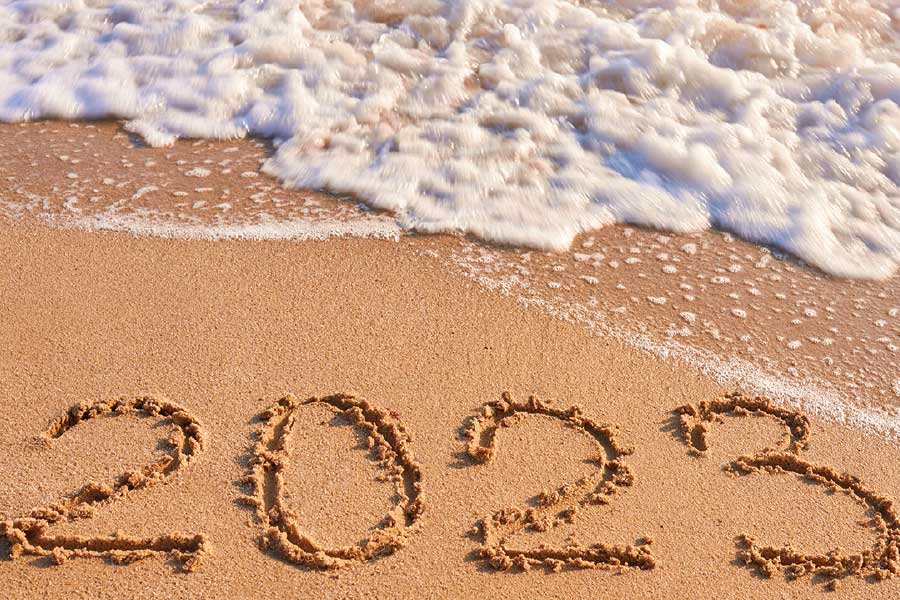 Let's be blunt: 2022 was rough for many investors. With many of the year's events unforeseen and unfavorable, this was a year we'd like to soon forget.
That said, many of the opportunities in 2023 are the direct result of some of the challenges that 2022 brought us, and as we enter the new year, some of these challenges remain. One primary obstacle, the concern of elevated inflation, has recently looked a little less imposing, while another concern, a projected recession affecting countries around the globe, is still looming. Seasoned investors understand that part of the investment experience is taking a long-term approach and that means potential periods of downward movements.
Our primary goal for the new year is to continue to help optimize your journey toward your financial goals.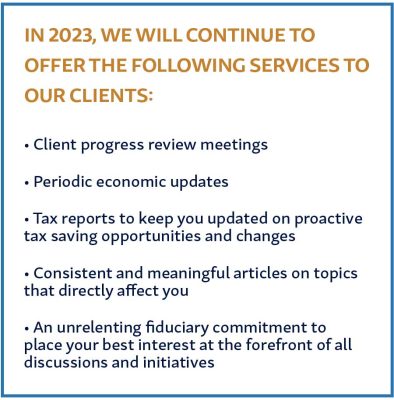 A key component to this is to identify items that you may anticipate needing our assistance with. In order to start the new year proactively, included in this communication is a 2023 Checklist to help you identify items you may want to address with us over the next year.
We enter 2023 with a service goal of exceeding your expectations and providing you with first-class service. We take pride in our ability to understand and effectively respond to your needs and enjoy providing timely information and holistic service to you.
We thank you for giving us the opportunity to help you work toward your financial goals and look forward to a great year!
While there are many nuanced aspects to holistic financial planning, the following are some specific areas we will continue to watch carefully as we head into the new year.
Interest Rates
Interest rate movements continue to be critical for investors. In 2022, the Federal Funds Rate rose from a range of 0 – 0.25% to a range of 4.25 – 4.50%. The Federal Reserve has announced they will continue to raise rates to around 5% in 2023 as a way to combat inflation.
Inflation
Inflationary concerns are important for investors. In the U.S. during 2022, results for inflation peaked in the fourth quarter and both headline and core Consumer Price Index (CPI) readings showed significant year-over-year declines to end the year. This was the data investors had long been waiting for, and they expressed their approval by sparking quick, but short-lived equity market relief rallies. This initial descent from the inflation summit can be encouraging, but it takes more than one data point to make a trend. Inflation numbers and fears need to be monitored as the 2023 data becomes available.
Recession Risk
A main obstacle for investors is that many analysts are suggesting a recession is inevitable. The shift from inflation risk to recession risk reflects the impact of aggressive monetary tightening by the world's central banks, which have fixated on inflation-fighting at the expense of economic growth. Even with inflation starting to moderate (at least in the U.S.), there is no guarantee that central bank policy rates will follow suit. In fact, in November, Fed Chair Jerome Powell conveyed that rates are likely to remain 'higher for longer,' which will bring continued challenges to the economy and investment markets. Economic recovery is still appearing to be affected by the overseas effects of Covid-19 and its variants. We will continue to stay apprised of the direction of recovery efforts and how they are affecting the economy.
Stock Market Valuations
Valuations are used as key predictors of equity returns. Many stock prices have fallen significantly from historical highs, but in tough times, valuations become more challenging to estimate. While we cannot predict long and short-term valuations, we can continue to help you identify your risk tolerance and time horizons. We will also guide you to use practical behavior during times of market volatility.
Your Personal Situation
Your personal situation is always our highest priority. We are here to help you with any financial moves or concerns you have throughout the year. We understand that each individual and household has different goals and needs. We will continue our tradition of keeping you informed of any changes that we think may affect your personal situation.
We enter 2023 with the continued mantra of 'proceed with caution'. Having a solid foundation and strategy is critical to the outcome of your financial plans. Revisiting your plan and keeping it current is also a sound practice we feel should be conducted on a consistent basis. Our mission is to provide you with guidance and support on your journey toward your financial goals.
As always, if you have any questions or concerns, call our office and we would be happy to assist you.